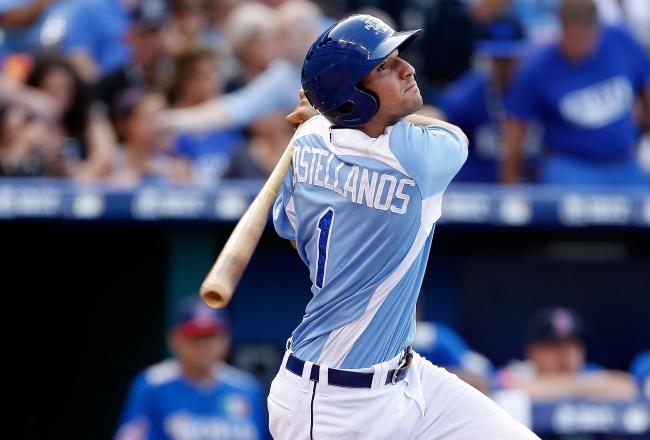 By Sean Gagnier
After trading away two of the two top prospects in the Tigers farm system during the 2012 season, what is left on the farm that could help Detroit in the near future?
Nick Castellanos 3B/OF
Avisail Garcia OF
Bruce Rondon RHP
Jake Thompson RHP
Austin Schotts OF
Danry Vasquez OF
Tyler Collins OF
Casey Crosby LHP
Eugenio Suarez SS/2B
Adam Wilk LHP
Everyone in Detroit knows who Castellanos and Garcia are. Castellanos is a natural SS, who was moved to 3B and then to the outfield when Miguel Cabrera moved to third base. General Manager Dave Dombrowski has maintained that Castellanos will remain in the outfield, which could work for Detroit. With the Tigers still searching for another outfield bat, having a solid young bat like Castellanos in the minors is a good backup plan.
Garcia is an electrifying outfielder who came to the majors at the end of August and made his presence known in Detroit. He has a plus bat and an incredible arm from the outfield. One problem with him however, is that Manager Jim Leyland only played him against left-handed pitchers, which he did well against. But, being a young player, if he only ever sees action against lefties, then his numbers against righties will only continue to fall. Garcia will be a very good outfielder, but he needs to play every day, and if he can't get that in Detroit, then he should spend half the season in Toledo getting everyday action before he moves permanently to right field in Detroit.
Bruce Rondon has had his name thrown around a lot lately, as a solution to the closer vacancy in Detroit. Rondon is known for his blazing fastball that can easily hit triple digits, but he also possesses what could be the best slider in the Tigers organization. If Rondon has a third pitch that even comes close to his fastball and slider, then he will earn the closer role in 2013 and will not relinquish it for years.
Jake Thompson and Austin Schotts were both drafted by the Tigers in 2012. Thompson has a good arm and is capable of making hitters miss, but he is still very raw and will require several more years in the minors before he will be ready to break into the big leagues.
Schotts however, could have been the steal of the 2012 draft. The outfielder is said to have 80 speed and said to be able to beat Mike Trout and Michael Bourn in a footrace. Schotts elected to join the Tigers rather than go to college, and Detroit couldn't be happier about it. In his first 22 games as a pro, Schotts hit .388/.440/.538 with 7 doubles, a triple, a homerun, and 11 stolen bases in 13 tries.
Schotts will not take much longer in the minors before he is ready for an everyday job in Detroit. With his exceptional speed, he could be a great fit in the massive Comerica Park center field. This would shift Austin Jackson to left field for the Tigers, which could work well, as Detroit has been on the lookout for a good left fielder for a decade.
Danry Vasquez was signed when he was 16-years old and given a seven figure signing bonus by the Tigers in 2010. There have been some mixed reviews on his fielding, but he stands out as being a good player even when not in the spotlight. Vasquez does possess a strong arm from the outfield and as his fielding improves he will only become more and more inticing for Detroit to either place in the lineup or trade for a top-tier MLB talent.
The Tigers continue the glut of outfield talent with Tyler Collins, who won the National Junior College Athletic Asssociation Player of the Year from Howard College in Texas in 2011. He batted .488 (105-for-215) last spring with 34 doubles, 19 homers and 82 RBI. Collins was selected in the sixth round of the 2011 MLB draft and will likely be a trade piece before he makes it to the majors in Detroit.
Casey Crosby is another name Tigers fans should know, he has spent some time in the Detroit rotation the last several years. Crosby has struggled to stay healthy since being drafted in 2007, and following Tommy John's surgery in 2008 Crosby needs to get some innings under his belt. He possesses a heavy, mid-90's fastball and while he has a good curveball, he needs work to consistently throw it for strikes. A changeup adds depth to his repertoire, but it needs a bit of work still.
Eugenio Suarez breaks the outfielder daze, and the switch-hitting infielder is a breath of fresh air for the Tigers. Although Suarez is on the smaller side, but he possesses good defensive ability while also hitting well. It appears as though the Tigers scouts found gold with this IFA prospect. The lack of infield prospects and his good skill set should have him in the majors quickly.
Adam Wilk is yet another familiar name for Tigers fans. Wilk is a control pitcher, who does not have great velocity, but he does have great control. He consistently throws strikes, but it is hard to see Wilk as anything more than a bullpen pitcher who could see occasional spot starts.
Below is a graphic representation of the Detroit Tigers 2016 projected lineup, there is a text version further down the page.
Projected 2016 Detroit Tigers starting lineup
Catcher-
Alex Avila
First Base-
Prince Fielder
Second Base-
Jhonny Peralta
Third Base-
Nick Castellanos
Short Stop-
Eugenio Suarez
Left Field-
Austin Jackson
Center Field-
Austin Schotts
Right Field-
Avisail Garcia
Designated Hitter-
Miguel Cabrera
No. 1 Starter-
Justin Verlander
No. 2 Starter-
Max Scherzer
No. 3 Starter-
Doug Fister
No. 4 Starter-
Drew Smyly
No. 5 Starter-
Rick Porcello
Closer-
Bruce Rondon