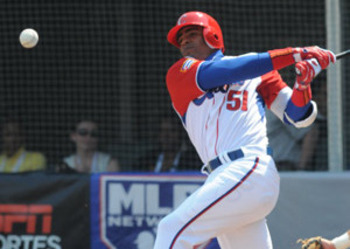 After defecting from Cuba the 26-year-old free-agent to be has landed in the Dominican Republic and has drawn the interest of very nearly every Major League team. The leading candidates for his services remain the New York Yankees, Detroit Tigers, Miami Marlins and the Washington Nationals. And for good reason, this outfielder holds the Cuban-league home run record and is nicknamed, "The Talented."
The Detroit Tigers have emerged as the most aggressive team in the hunt for Cespedes with General Manager Dave Dombrowski flying down to the Dominican Republic to watch the outfielder work out. Cespedes has drawn more interest from the Tigers than any player in recent memory with one staffer saying of the Dombrowski trip to the Dominican, "I can't remember (Dombrowski) ever taking a similar step before."
All of this attention is well deserved as the slugger has regularly contributed to the success of his Cuban-league team. While the stats out of the Cuban-league are spotty and the competitiveness of the teams is unknown, Cespedes projects to be a very good major leaguer.
Many have equated the Cuban-league to a high-AA ball competition, which ask any baseball savvy individual is where major leaguers are born. His numbers out of Cuba look like this;
Year BA OB SLG HR RBI SB
'08 .243 .290 .388 21 77 5
'09 .262 .322 .410 19 75 5
'10 .269 .329 .412 18 66 6
'11 .266 .332 .445 27 98 13
Those numbers are very impressive and translate well to the MLB, which is what the Tigers are hoping. They believe that Cespedes can come over and play right field and lead off immediately. Austin Jackson will remain as the center-fielder, but the addition of Cespedes would free Detroit up to trade Delmon Young, they would prefer for a middle-infielder, and allow the Tigers to slide Brennan Boesch over to left field.
And if his numbers out of Cuba aren't convincing enough his representatives have released a highlight video that includes the longest introduction of all time, including a "Star Wars" style lead in.
Cespedes projects out to be a similar player to Aaron Rowand and even beyond, his numbers make him head-and-shoulders better than any other center fielder on the market. While his numbers show that he will be a very respectable major league player, he will not become a star - his stats just don't seem to support that.
The only down side to Cespedes is the contract that he is asking for; prior to his settling down in the Dominican it was assumed that he would command Aroldis Chapman-type money. That is close to the truth, Cespedes is using his fellow Cuban-defector's contract as a measuring stick. Chapman made $30 million out of Cuba, Cespedes wants double.
The $50-$60 million price tag may scare away many of the smaller market teams and quite possibly the likes of the Yankees and Red Sox who want a bit more certainty before shelling out such sums of money. It appears as though the road is clearing for the Tigers to secure their outfielder, with his contract expected to be posted after the Winter Meetings this week.
A look into the future shows that Cespedes will develop into a very respectable outfielder with an ability to get on base and drive in runs.
Year BA OBP SLG HR RBI SB WAR
'12 .270
.331 .435 23 86 9 3.3
'13 .269 .331 .439 23 84 9 3.4
'14 .267 .330 .435 22 83 8 3.2
'15 .268 .330 .436 22 86 8 3.1
Those stats aren't earth-shattering by any standard, but they are solid and appear to remain solid for many years into the future. While the Tigers don't appear to be looking to make a big splash during the Winter Meetings, they may simply be waiting to make their splash once Cespedes is posted. Look for the Cuban-phenom in the Old English D next season.