On Monday, the Detroit Tigers offered arbitration to all of their eligible players, except for one, Will Rhymes. Rhymes had bounced between the AAA Toledo Mudhens and the Tigers over the last several seasons as Detroit was attempting to find a solution at 2B. Technically, Rhymes was not close to being arbitration eligible because he has less than one year of major league experience, but the Tigers chose to non-tender him a contract.
Over the 2010 and 2011 seasons Rhymes had established a .283 BA with a .341 OBP but only 21 RBI, 19 coming in the 2010 campaign. After Detroit signed Ramon Santiago to a two-year deal earlier in the off season it was assumed that things would stay status quo at 2B for the Tigers - with Ryan Raburn, Santiago and Rhymes battling each other all year to become the next mediocre starter at the fourth position on the field.
Detroit's 3B search continues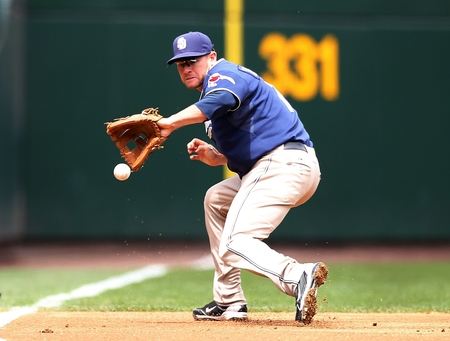 Wherever Brandon Inge is sitting must always be hot, because the Tigers are again rumored to be checking into another third baseman to replace Inge in 2012. The latest to be connected to the Tigers is the 3B for the San Diego Padres, Chase Headley.
Headley is due for arbitration this season and should be awarded $3MM by the arbitrator. The 27-year-old has a career .269 BA and a .343 OBP in his four seasons with the Fathers. Reports have the asking price in San Diego for Headley being pretty steep - in this case, the market has justified the increased price of Headley as the 3B market has all but dried up.
Detroit has inquired as to the cost of Headley and reports have them coming away thinking the price is too high - that's not to say that they have closed the door forever on the 3B from San Diego, but they will be looking elsewhere right now.
Tigers ship Perry to DC
On Friday the Tigers completed a straight-up player-for-player trade with the Washington Nationals that sent former first-round pick Ryan Perry to D.C. for a former fourth-round pick Collin Balester. Both players are right-handed relief-pitchers that haven't proved much with their time in the big leagues.
In his four seasons with the Washington Nationals, Balester has complied a 5-16 record with a 5.17 ERA and a 1.473 WHIP. While he started his career on the Nationals as a starter, in 2008, he has remained in the bullpen for the last three seasons and has shown that he is anything but consistent.
Balester's numbers have bounced around from season to season - in 2009 he posted a 6.82 ERA and then in 2010 that number drops to 2.57 before ballooning to 4.54 in 2011. While much of this may be able to be attributed to the nature of being a relief pitcher, it doesn't exactly instill much confidence in him. He will still have to battle David Pauley for the final bullpen spot on the Tigers during Spring Training.
Ryan Perry seemed to have worn out his welcome in Detroit - General Manager Dave Dombrowski showed a lack of patience in dealing with former 2B prospect Scott Sizemore, but showed much more leniency with Perry, allowing him to struggle through three seasons at the major league level.
In his time with Detroit since 2009 Perry has amassed a 5-6 record and a 4.07 ERA and a 1.43 WHIP. His numbers essentially mirror those of Balester, making this trade all but meaningless. Regardless of if it was Perry or Balester they would have to be able to prove their worth in Lakeland, FL in February in order to beat out Pauley for the final bullpen spot.