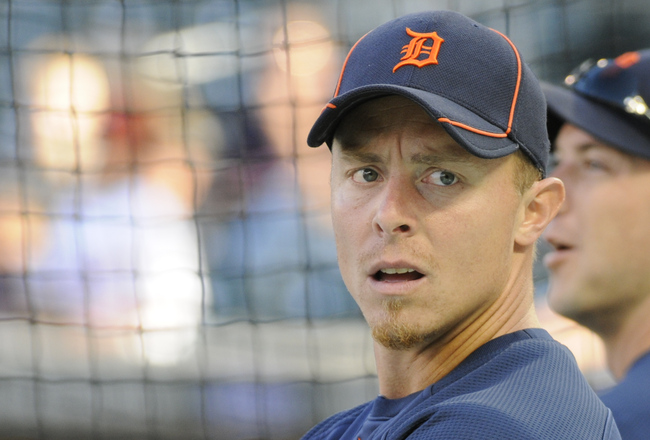 Before the Tigers rocked the baseball world by signing Prince Fielder, Brandon Inge was hoping to rebound from a forgettable 2011 season with considerable playing time at 3B. But once Detroit pulled the trigger on their newest slugger it shifted Miguel Cabrera back to his original position at the hot corner and left Inge without a home.
At the press conference to announce Fielder's signing Tigers Manager Jim Leyland said that Inge was "not a happy camper" about being forced out of third base once again. To add insult to injury a few days later Denny McLain called Inge out for "whining" and told him to "suck it up."
At the press conference Leyland ran down several configurations for his team in the field, and none of them featured Inge. Even the designated hitter position, not that Inge could ever be considered a hitter, featured a collaboration of about four names, none of which were Inge.
But as the team prepares to head down to Lakeland, Fla. for spring training Inge talked to general manager Dave Dombrowski and indicated that he wants to compete for a spot at second base. Perhaps Inge has studied the team and seen that 2B is the weakest spot in the field for the Tigers, or maybe he just wants back into the game.
Currently, Leyland is looking at going into the 2012 season with a platoon of Ryan Raburn and Ramon Santiago at 2B, but neither of those players are good enough to have anything locked up before Opening Day rolls around. But they each possess something that Inge may not - the ability to turn a double play.
Inge has shown incredible athleticism at third during his career, but 3B is the moon compared to 2B. At third a player makes a stab at the ball and fires it to first or second for the out. While at 2B, a player has to read the runners and his partner at SS and make the out before getting the ball across the diamond to the waiting glove of Fielder at 1B. Even Leyland expressed uncertainty about Inge's proposed move.
"I don't know if he can do it," Leyland said.
Leyland made one thing certain, if Inge wants to compete for a starting spot at 2B, he will not only have to be able to field the position and turn a double play, he will have to be able to hit. If he can't hit then he won't be in the lineup.
While this is all well and good, one has to wonder the impact on Raburn and Santiago heading into spring training. Raburn has frequently had abysmal starts to the season and if Inge is breathing down his neck on the bench it could force Raburn to push and struggle once again. As for Santiago, he just signed an extension with the Tigers only to face the possibility of losing his spot to the journeyman Inge.
Spring training is long and who knows, maybe Inge can make himself into a decent second baseman, but unless he can consistently hit without the need of a boat oar and can restrain himself from lashing out at the fans again his stay with the Tigers will be on the bench.