By Sean Gagnier
@SeanGagnier
It's safe to say that the Tigers struggle a little bit at second base right now, with Baseball America projecting the 2015 starting second baseman to be Ramon Santiago there is a problem. Either the Tigers give Danny Worth the at-bats he requires to see if he could be their option or they move uber-prospect Nick Castellanos to second from third in the minors to develop him, which may be the way they
ultimately go
; but what does Detroit do at the trade deadline?
There are a couple of players that could be on the Tigers radar, they are solid players, nothing worthy of a blockbuster, but good players that could bring a bit of consistency to the line up. One Tigers fans have seen for years and is a Michigan native, the other isn't as familiar to Detroit fans but they will get a chance to see him soon.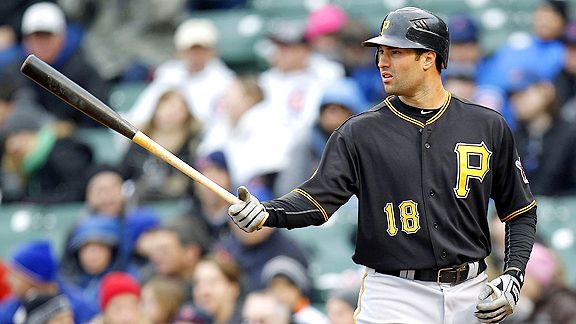 Neil Walker - Pittsburgh Pirates
2011 - .273 BA .334 OBP .408 SLG
2012 (34 games) - .269 BA .321 OBP .336 SLG
Career - .279 BA .336 OBP .415 SLG
Walker plays both second and third base, but is primarily a second baseman. A native Pennsylvanian, he stands 6'3" and weighs 210 lbs.
The 26 year-old was drafted 11th overall in the first round of the 2004 MLB Draft by the Pittsburgh Pirates and debuted in the majors on Sept. 1, 2009. Walker was pre-arbitration eligible this season and is being paid $500K, he is eligible for arbitration in 2013 and stands to make a bit more money at that time. Under contract until 2017, Walker could be the bridge the Tigers need to get them from their current state to one where Castellanos has made the transition to second base.
Pittsburgh is once again out of the race early and will surely be sellers at the deadline, but Walker is seen to be a promising young player and may take a few pieces of eight
(see what I did there?)
to pry away from the Pirates. Detroit has a stable of young arms in the minors that may be just tempting enough to persuade the Pirates to part ways with Walker.
Would only take mid-level talent to get Walker; Jacob Turner and Castellanos will not be remotely considered in the deal. Could be a Casey Crosby or Adam Wilk type player or two to land Walker.
Chris Getz - Kansas City Royals
2011 - .255 BA .313 OBP .287 SLG
2012 (26 games) - .282 BA .333 OBP .408 SLG
Career - .255 BA .316 OBP .314 SLG
Getz is a prototypical second baseman, standing 5'11" and weighing 185 lbs. the Michigan native and University of Michigan alum could be a cheap get from the Royals.
Despite preseason hype, the Royals are once again near the bottom of the American League Central. Their rookies are not producing as they had hoped and their pitching is just as bad. The Royals will once again be sellers at the trade deadline, their big name players will be untouchable, but players like Getz could be an easy...get.
The 28 year-old was drafted in the fourth round of the 2005 MLB Draft by the Chicago White Sox and played with Chicago in 2008 before heading to Kansas City in 2009. Getz was eligible for first-year arbitration in 2012 and is earning $968K this year. He is eligible for full arbitration in 2013 and is under contract until 2015.
A trade for Getz may be very similar to the one it took for Detroit to acquire Wilson Betemit last season. Now stop and think, who did the Tigers give up in order to get Betemit; and don't cheat and look it up. Exactly, you have no idea. Detroit gave up two Class-A minor-league prospects Antonio Cruz and Julio Rodriguez in that deal.
While a trade for Getz may take just a bit more than what it took for Betemit, it wouldn't take much more. So if Dombrowski can find a few minor leaguers that the Royals are interested in Getz could be coming home.